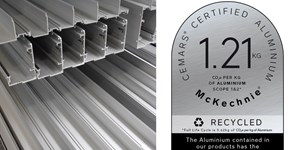 Over 98% of the aluminium extrusion we purchase is manufactured from recycled content, sourced from the only re-melt facility in New Zealand, McKechnie.
The facility operates using renewable energy – giving it an official CEMARS rating of 1.21kg/co2/kg – 11.3 times better than the world average
Recycling:
Close to 100% of our offcuts and recyclable aluminium components are recycled through McKechnie. In order to obtain the strength grade we often require, a small amount of pure alloy is added. The recycled content of the majority of the extrusions we use is safely beyond circa 85-90%.

To find out more contact Thermosash.