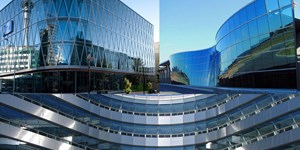 Glass is one of two primary materials used most frequently in our trade.  (Note upto 52 individual materials are included in a typical unitised panel) With glass not being manufactured in New Zealand, Thermosash obtains the majority of its glass direct from international tier one suppliers.
We order glass in bulk, cut to final dimensions and nested to reduce glass waste and carbon miles. Wherever possible, we encourage the selection of performance improved glass so that energy use can be potentially reduced in the buildings we help construct.
Recycling:
With New Zealand not having a glass manufacturing industry, one can only look to recycling as a local solution for glass. If a unitised frame is being re-used from a building, glass is part of that component and is therefore not separately disposed of but repurposed along with the frame (refer Refurbishment or Re-Use).
We work with a local glass recycling business that works to upcycle / recycle glass in many different environmentally sensitive ways including being crushed and reused in concrete and fill areas for roading.

To find out more contact Thermosash.