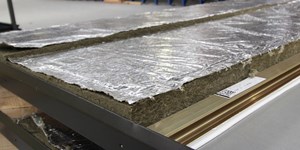 Thermosash uses a range of different insulation manufacturers for our unitised products, pending the project hierarchy drivers around desired insulation values, depths available within the system and fire and acoustic ratings.
One supplier states on their EPD for the knauf 'Climacoustic' product, an 80% recycled material content. Other forms of insulation we use primarily for fire rating state a recycled content of circa 20%. EPD's available for both material upon request.

To find out more contact Thermosash.