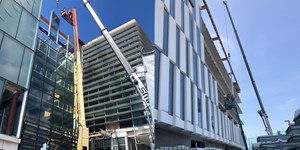 The design life of a Thermosash unitised curtainwall façade system, if maintained according to our Operations and Maintenance Schedule, should well exceed 50+ years.
However, should the system need to be removed earlier in its design life we are able to facilitate this. As an example, Thermosash is upcycling a facade from a post Kaikoura earthquake damaged building; the BNZ Harbour Quay project is being removed and re-installed on the Wellington Children's Hospital plus other buildings.
Architecture Now has featured an article on this re-use project, Breathing new life into recovered building materials.

To find out more contact Thermosash.