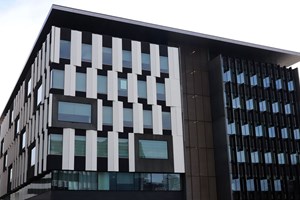 An extremely versatile product - outer frame construction - tenoned in a unique manner to provide a very strong and twist-free connection which removes the reliance on assembly screws for strength and small joint sealant for weathering of fabricated joints.
Delta windows can accommodate virtually any thickness of glass or panel from 4mm to 28mm.
Delta windows integrate with perimeter seismic frames and (where required) seismic transoms to meet specified vertical or horizontal building movements (internally or externally glazed).